The Aquabats! started as a joke band, and honestly, I really respect that. They set out to have fun more than anything else and I think that is what made them stand out so well. Their particular gimmick worked out really well for them in my opinion.
I didn't know much about The Aquabats! until just this past summer when I was exposed to more of their music and then had the opportunity to see them in concert. They are very fun to see live as a staple of their performances is the theatricality in their live shows. Each band member has their own super-hero identity as well as matching costumes. Villains and choreographed fights, as well as videos, are included in the performance and ultimately they are all good showmen. Their songs are fun and silly, their performance entertaining, and their attitude infectious. Altogether, you can't really go wrong with a band like The Aquabats!
As for their musical style, The Aquabats! definitely started out as a ska band with all the elements of the genre such as a walking bass line, off-beat rhythms, big horn sections, and driving guitar. Some other well-known ska bands to emerge from the 80's and 90's include The Mighty Mighty Bosstones, Reel Big Fish, Less Than Jake, and Sublime. This wave of the genre could probably more accurately be termed as Ska Punk as it includes many Punk elements. If you like Punk at all, I suggest you give Ska a try.
As The Aquabats! continued in their career their music evolved to include influences of New Wave, Rock, and Synthpop as well as Ska and Punk. If you listen to some of their earlier music such as "Super Rad!" or "Idiot Box!" which are both on their 1997 album The Fury of The Aquabats! you immediately hear exactly what Ska sounds like. However, if you listen to some of their later music such as "Shark Fighter!" "Hey Homies!" and "All My Money!" from the 2011 album High-Five Soup! it has an obviously more new wave and synthpop influenced sound. It seems like they traded out the horns for synth. I wouldn't say I prefer one style over the other, they are all obviously the same band in lyrics and arrangement and are fun songs to listen to.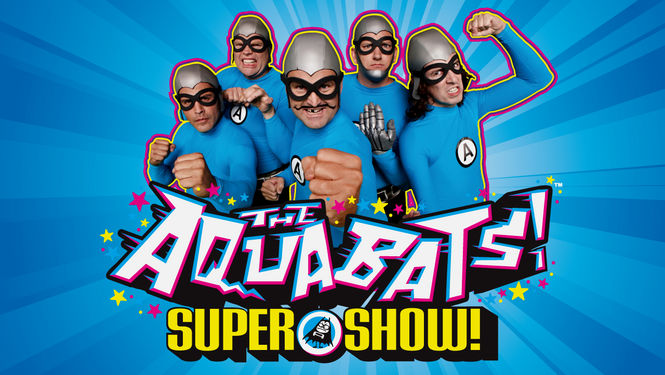 The Aquabats! had a TV show for 3 seasons called The Aquabats! Super Show! I haven't watched any of it so I can't give you any more info on it, but from what I can tell it is full of stories about the band as superheroes, uses a mix of live action and animation, and is fairly pointless.
If you want a good example of how ridiculous (in a good way) this band is, here's the video for "Super Rad!" Also here is a link for "Shark Fighter!" Listen to both and notice the difference in the instrumentation between the older and newer style.
The Aquabats! are kind of ridiculous. Their lyrics are not serious in the least, their musical style is upbeat and fairly fanciful, and they wear matching spandex and domino masks. Seriously. They are a freaking awesome band. How many musicians write songs about shool pizza day or giving out hugs? These lyrics are fun, lighthearted, and singable, and you may have noticed their habit of overusing exclamation points.
All I can really say about The Aquabats! is that they are extremely fun. If you want to listen to some of their music, I recommend the following tracks: "Super Rad!" "Red Sweater!" "Pizza Day!" "Pool Party!" "Hey Homies!" and "The Legend Is True!" There are many other really good songs by this band, but those might be my favorite
Give it a shot, I really think you'll enjoy it! They are super rad after all!