Story time!
Before she took over pop radio with her second album, I was maybe peripherally aware of Adele. Meaning I had heard a couple of her songs ("Chasing Pavements" and "Hometown Glory") but didn't know who she was. One morning I was driving into work listening to the local community radio station like the hipster I am when a song came on that hit home with me. You know how some songs you just have to finish listening to before you can get out of the car? Yeah, this was one of those. I remember being surprised and slightly blown away at the rich and heavy tones and drums through the repetitive phrases in "Rumor Has It", and just sitting in the car listening spell bound. I really liked that song, and anytime I heard it on that station I always turned the volume up. I still have that vivid memory of the first time I heard that song and how much I loved it.
Lo and behold pop radio picked her up shortly after that and after a while she got a little overplayed for my tastes. Curse you, Top 40 radio!
Anyway, after she got popular from her album 21, I looked her up on Youtube and really loved her video for "Rolling In The Deep", you should check it out:
Adele has only 3 albums out, but she has been very popular since her second album came out, though many of you know her hit "Chasing Pavements" from the first album, 19.
Fun Fact! Her albums are named after how old she was when she released them (or recorded them, I'm not exactly sure). I can't say for sure, but one of the reasons I like her might be because she and I are pretty close to the same age.
All in all, she's pretty impressive. She's a good song writer, even if she seems to have a penchant for break-up songs especially, and she has great control of a rather striking voice. And she made an absolutely fantastic James Bond theme with "Skyfall". Though I never actually saw that movie I was a fan of the song. Bonus points to her for winning an Academy Award with that song. Not that that's the only award she's received for her music. I mean just look at those Grammies!
So I guess the moral of this story is Adele is a great musician. You don't have to like all of her songs (a lot of them are pretty sad) but you should maybe look a little deeper into her stuff. I think my favorite track of all would be "Right As Rain" followed by "Rolling In The Deep" (I mean, really, that music video was rad!).
Bonus joke! I love this joke, I tell it all the time.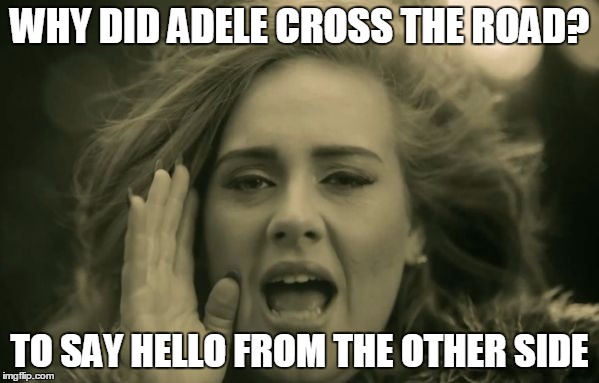 And because I found too many good memes, here's some more for your enjoyment.